Advertising
on the Lake City, Colorado Web Ring
Several advertising options are available to people who wish to advertise on this site. Many options cost you nothing. Other options cost very minor fees. Any fees gathered from advertising are used to compensate for the large amount of time involved in keeping this site useful and valuable to you the visitor. Through your support we will continue to offer, news, information, and more and more content ideas as time permits and as those ideas come to us or are provided by our visitors. We sincerely hope that you will find any fees associated with advertising on this site to be very reasonable.
FREE ADVERTISEMENT
WEB RING LISTING: your site can be listed in the Lake City Web Ring White Pages and Yellow Pages free of charge provided it has relevant information to Lake City, Colorado or Hinsdale County. In addition, if you create a link to the Web Ring from your site using the methods described here then you will be given a FREE bold listing in the White Pages and Yellow Pages.
Other fee based options are also available which are much like adds in phone books. They make your site stick out a bit more. This information will be listed in one of the following sections.
NEWS, PUBLIC SERVICE ANNOUNCEMENTS, AND MEETINGS: this type of information is what makes a website thrive. We hope to offer all the information we can about the happenings in Lake City. Feel free to email us at lakecitywebring@yahoo.com with any news tips, public service announcements, and meeting times and we will gladly post them for free on this web site.
FEE BASED ADVERTISEMENT
WEB RING LISTING: The white pages offers only REGULAR and BOLD listings. If you wish to have a BOLD listing but, do not wish to provide a link back to the web ring you will be charged $12/per year to list your site as a BOLD listing. However, if you read above you can have this listing for free by providing a link back to the web ring.
In the YELLOW PAGES you immediately gain a REGULAR or BOLD listing as with the WHITE pages in ONE CATEGORY of your choosing. If you wish to add a REGULAR or BOLD listing to an additional category the fee is $5 per additional category (one time fee). As long as your web page continues to exist and the web ring continues to exist your BOLD and REGULAR listings will continue to be listed in their appropriate categories for life.
You can list a graphical advertisement in a category of your choosing for the following fees:
SMALL ADVERTISEMENT - 192 x 100 Pixels - $24/per year ($2/month)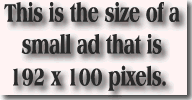 LARGE ADVERTISEMENT - 384 x 100 Pixels - $36/per year ($3/month)


NOTICE: You may provide your own artwork or design for your advertisement provided it falls in the pixel dimensions listed above. Otherwise, we will design an ad for you with your help for you at no additional charge.

We will maintain records and you will only be billed one year from the time you place your ad if you wish to renew the agreement. You can also change your advertisement at that time. This is the most affordable form of advertisement you are likely to find anywhere.
JOB LISTINGS: Maintaining a job listings board can be time consuming. It is definitely a service that has been needed in Lake City and has been requested to Future Wave Computer Solutions by local business owners on several occasions. Job listings may be added for a fee of $1 per listing. This listing will remain listed until such a time as the business owner informs the Web Ring that the position has been filled or the Web Ring contacts the business owner and determines the listing is no longer needed. This $1 will cover a listing of about the following length ( 50 words max):

Sample Job Listing: Cook - A cook position is open at the yet to be named restaurant for the salary of $12/hour + 50% off on employee meals. Times needed are Monday through Friday from 9am to 6pm. Experience required. Call (###)###-#### or email: fakeemail@nowhere.com for more information or to send your resume.

If you should need to list a job more lengthy than this it will be at the cost of $1 per 50 words.

You will find the form to submit a job listing under the Public Announcements section of the web ring. Job Listings has its own sub-section.

RENTAL/APARTMENT LISTINGS: The rentals and apartments go right along with job listings. The rates and format for placing a listing of this nature is the same as for the Job Listings above. Rental/Apartment listings are also found in their own sub-section of the public announcements area of the web ring.
GRAPHIC ADS ELSEWHERE IN THE SITE:
The opportunity is also available to put graphic advertisements in other areas of the web ring site. For example: if a real estate agency were to place a graphical add in the rental/apartment section of the web ring they would be advertising in this category.

To keep the loading times low for web pages we try to place as few ads as possible on each page. Therefore, we will charge a monthly fee to keep an advertisement on a page that would normally be nearly ad free.

See the size examples above when referring to these prices:
SMALL ADVERTISEMENT 192 x 100 pixels - $5 / Month
LARGE ADVERTISEMENT 384 x 100 pixels - $8 / Month

Please contact us by email at lakecitywebring@yahoo.com if this is something you wish to do and we will contact you to make arrangements and decide on how you wish to implement the advertisement.
WEB SITES:
Let us design your web site for you. Our fees are very low and the quality is as you see here. In addition, any Lake City, CO and Hinsdale County web site that is created by us will automatically receive a 192 x 100 pixel advertisement in the Yellow Pages of the Web Ring.

FEATURES: We will design your website, and submit it to the top twelve search engines. If you choose to host your site on one of the many free web sites there will be no additional hosting fees. Our fee will be a one time fee and will not be billed on a monthly basis. The only way you would receive an additional bill from us would be if you chose to modify or add to your web site at a later date.

NOTE: If you choose to have your own domain name, or the hosting requirements that YOU choose are with another agency then you will be responsible for any fees they will bill to you. These features will never be needed unless you request them.

CURRENT WEB DESIGN RATES:
$50/screen - A screen is defined as a page no more than 800 x 1200 in size. This means if you had your page at 800 x 600 you could scroll an additional screen in height. This page will take up to but, not to exceed 5 hours of design time. These two requirements exist to protect us from potential abuse. The screen height limits us from ending up typing in a novel and being paid only $50 for a large amount of time. The hour limit MAY be exceeded at the web designers discretion but, it is in place to limit the amount of changes and time due to small details that some customers may want. For example: if a page were designed for $50 and over a years time it still had not been completed to the persons satisfaction and having spent 30 hours on it we are paid $50. NOTE: We protect the customer too with our warranty at the bottom of this section.

WARRANTY:
If you are not satisfied with a screen of a web page and do not wish to pay for it we will gladly destroy that screen and not bill you for it. This warranty extends ONLY to the time at which that screen was designed and reviewed by the customer.

LARGE PROJECTS:
If your page is going to take more than five screens we require 50% of the fee in advance. This is to protect us from not being able to pay the bills during the time we work on your project. As with the warranty above, if you are not satisfied with the project upon time of completion any portion of the fee relating to areas of dissatisfaction and up to the entire fee will be refunded. The exception to this is in the event that a project is very large and takes a very large amount of time. The customer will be given progress updates with each screen and must express dissatisfaction with those screens shown at that time. This is to protect us from loss of a large amount of work at the end of the project. We will work with you throughout the life of the project to monitor and insure your satisfaction.

Please contact us at fwave@rmi.net for web page projects.
NOTE: If you do not see the menu options for the Lake City, Colorado and Hinsdale County Web Ring please click HERE and the problem will be fixed.